Dark Chocolate Cookies
Tom can't have Nutella because it contains peanut oil (what's with that?). On a trip to Cost Plus, we found a Dark Chocolate spread, we just assumed was their version of the hazelnut chocolate spread only with dark chocolate—which would be our preference anyway. So for the How to Succeed in Business Without Really Trying After Party, I decided to use up something from the pantry, went looking for a Nutella cookie, and settled on Sally's Addiction Nutella Chocolate Chip Cookies. Only when I looked at the ingredients for the Spread, thinking I should make a "includes hazelnuts" sign, I found it was just chocolate (nothing wrong with that). And then I didn't quite follow the directions because I missed the first add of the ¼ cup Nutella. But after the party there was a single cookie left, so I'm guessing they were edible.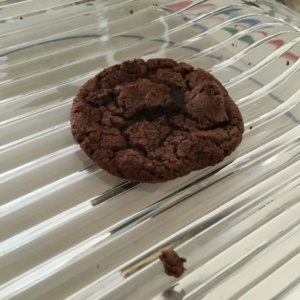 Ingredients:
1/2 cup (115g) unsalted butter, softened to room temperature
3/4 cup (150g) packed light brown sugar
1/2 cup (100g) granulated sugar
1 large egg + 1 egg yolk
1 teaspoon vanilla extract
1/2 cup (148g) World Market® Dark Chocolate Spread, divided
2 and 1/3 cups (295g) all-purpose flour (absolutely do not overmeasure—spoon and level)
1 and 1/4 teaspoons baking soda
1 teaspoon cornstarch
1/2 teaspoon salt
1 cup (180g) semi-sweet chocolate chips
Directions:
Preheat oven to 350°F. Line baking sheets with parchment paper or silicone baking mats. Set aside.
In a large bowl using a hand-held mixer or stand mixer fitted with a paddle attachment, beat the butter for 1 minute on medium speed until completely smooth and creamy. Add the brown sugar and granulated sugar and beat on medium high speed until fluffy and light in color. Beat in egg, egg yolk, and vanilla on high speed until combined. Scrape down the sides and bottom of the bowl as needed.
Whisk the flour, cornstarch, baking soda and salt together in a large bowl. On low speed, slowly mix into the wet ingredients until combined. Beat in ¼ cup Dark Chocolate Spread until combined.
Add chocolate chips and mix on low for about 5-10 seconds until evenly disbursed. Turn the mixer off and add the remaining Dark Chocolate Spread. Beat for 5-10 seconds so the Spread streaks through the cookie dough and is not fully mixed. (I think because the first add of the Spread was after the dry ingredients, the dough was more homogenous).
Scoop and roll balls of dough, about 1 Tablespoon of dough each, into balls. The warmth of your hands will help them come together. (I used a cookie scoop and did not roll into balls.) Bake the cookies for 10 minutes, slightly puffy and cracked looking. My oven has hot spots and yours may too—so, be sure to rotate the pan once during bake time. The baked cookies will look extremely soft in the centers when you remove them from the oven. Allow to cool for 5 minutes on the cookie sheet. During this time, if the cookies are too puffy, try gently pressing down on them with the back of a spoon. They will slightly deflate as you let them cool. Transfer cookies to a cooling rack to cool completely.
Yields: 4 dozen cookies.